Author in Your Classroom: Planning a plot, with Robin Stevens (series one, episode one)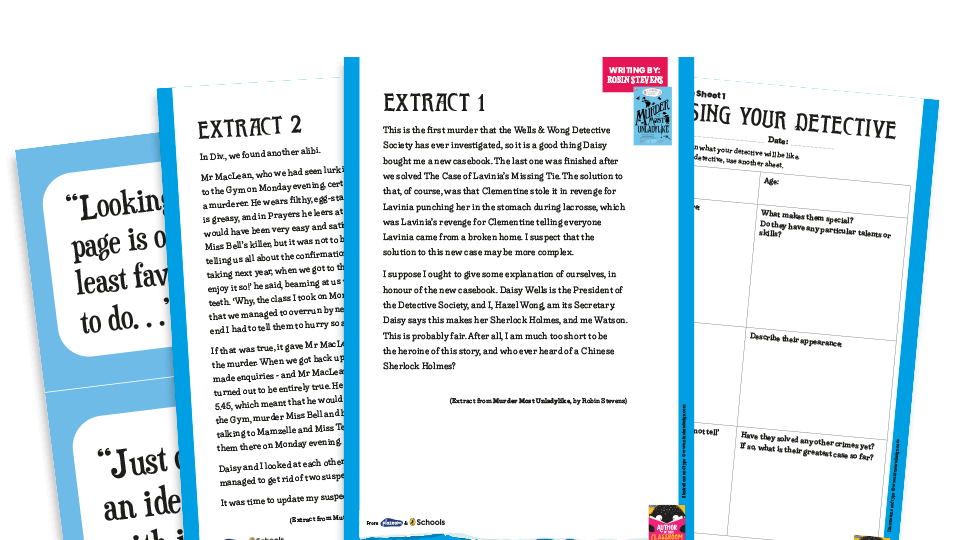 This is a free resource
Download now for free
Or subscribe today and you'll also get access to...
Unlimited access to 600+ resources
Over 80 expert CPD guides
Free subscription to Teach Reading & Writing magazine, and digital access to all back issues
New resources every week
Exclusive, member-only resource collections
Plus lots more...
View All Membership Benefits
Inspire KS2 children to create their own mystery story with expert advice on planning the perfect plot from Robin Stevens, author of the popular 'Murder Most Unladylike' series of books for children aged 9-12 years.
This resources pack is designed to be used with series one, episode one of the Author In Your Classroom podcast (bitly/AIYCRobinStevens) - a virtual 'author visit' you can share with children whenever you like, absolutely free!
Series one of Author In Your Classroom is being recorded in partnership with Puffin Schools, and Robin is one of eight Puffin authors to feature - with Sam Copeland lined up for episode two!
Puffin Schools is curated by the children's publisher Puffin. You'll find video resources, book lists and ideas to bring stories to life at PuffinSchools.co.uk.

This resource is part of the Classroom Display collection. View more from this collection
Look inside!
Click through to see what this resource has to offer
More from this collection