Classic Text Reading Comprehension Pack: The Invisible Man, A Christmas Carol, and the Adventures of Tom Sawyer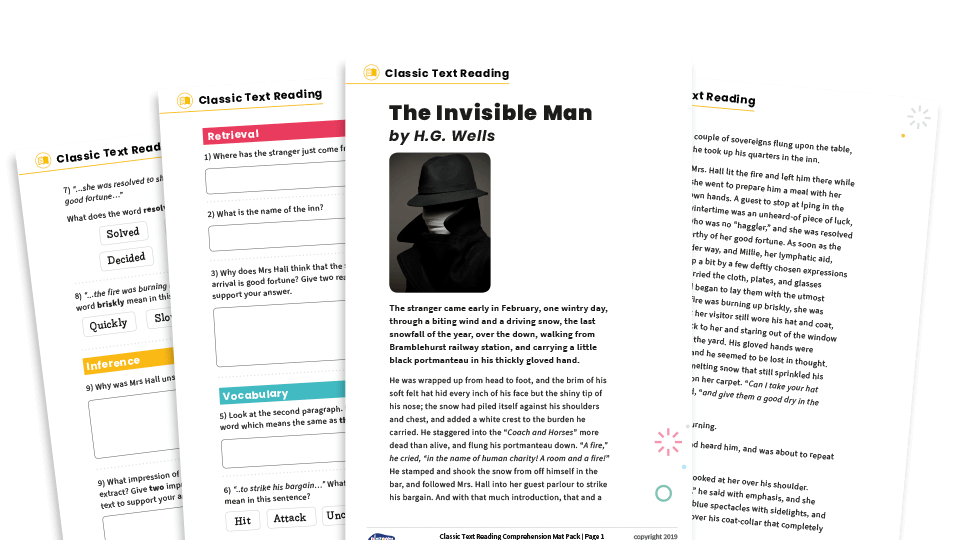 Download your resource
Free with 14 Day Trial
Then £25/annually after 14 days for unlimited access
Plus you'll also get access to...
Unlimited access to 600+ resources
Over 80 expert CPD guides
Free subscription to Teach Reading & Writing magazine, and digital access to all back issues
New resources every week
Exclusive, member-only resource collections
Plus lots more...
View All Membership Benefits
This classic texts challenge pack provides a quick burst of comprehension practice - ideal for morning work, a short reading session or even sparking an interest in a classic text.
Each challenge includes a brief extract from a classic text with a range of reading challenge questions focusing on the key skills of inference, information retrieval and vocabulary use. The classic texts in this pack are:
The stories included are:
• The Invisible Man by HG Wells
• A Christmas Carol by Charles Dickens
• The Adventures of Tom Sawyer by Mark Twain

This resource is part of the Reading Comprehension collection. View more from this collection
Look inside!
Click through to see what this resource has to offer
More from this collection