KS2 Writing Features Challenge Mat: Limericks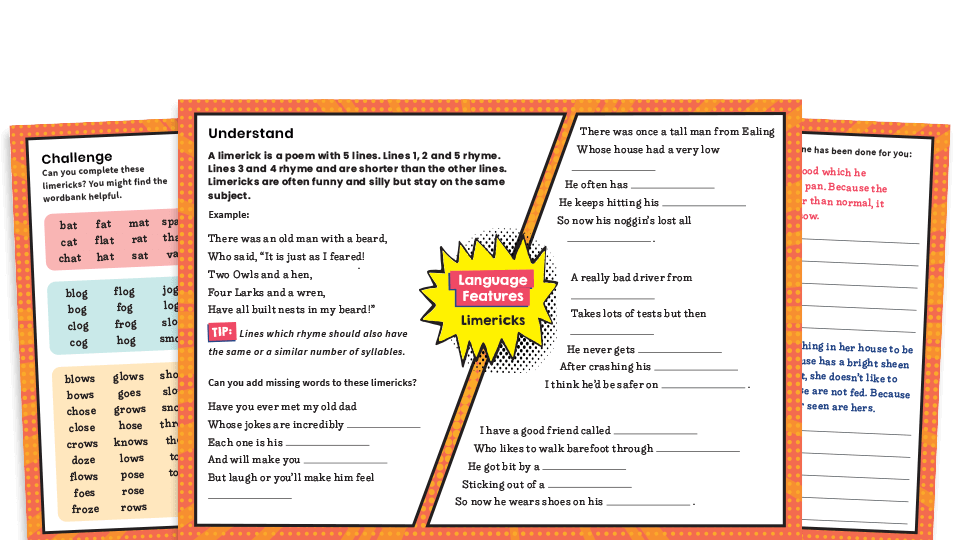 Download your resource
Free with 14 Day Trial
Then £25/annually after 14 days for unlimited access
Plus you'll also get access to...
Unlimited access to 600+ resources
Over 80 expert CPD guides
Free subscription to Teach Reading & Writing magazine, and digital access to all back issues
New resources every week
Exclusive, member-only resource collections
Plus lots more...
View All Membership Benefits
These bright and engaging worksheets encourage children to revise and practise the standard features needed when writing limericks.
The sheets offer five different challenges, under the headings understand, explain, challenge, test and apply. These can be completed during a single lesson, spread over a number of sessions, or used for homework. The questions encourage creative responses as well as revision, and use interesting images to spark children's imaginations.

This resource is part of the Effective Writing collection. View more from this collection
Look inside!
Click through to see what this resource has to offer
More from this collection