Topical Tuesdays from The Week Junior - Children without books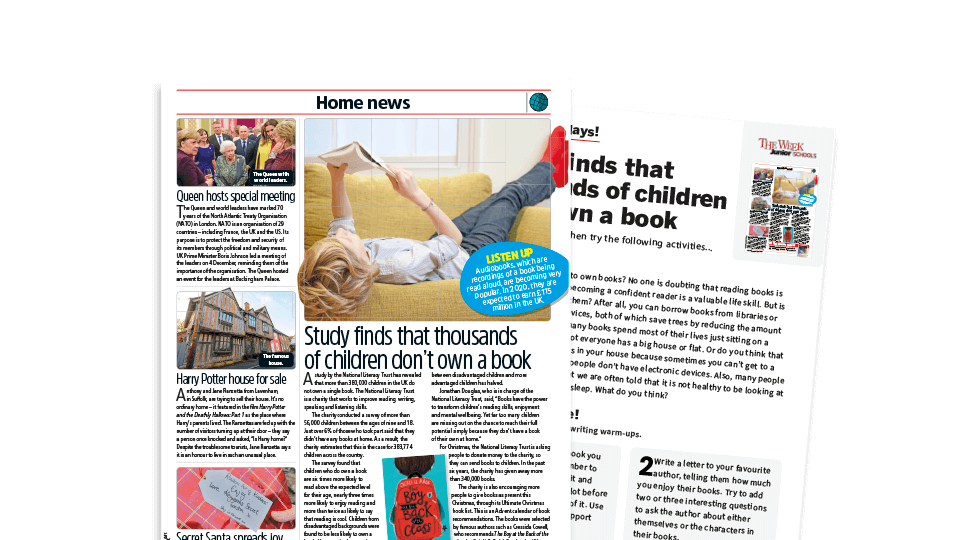 This is a free resource
Download now for free
Or subscribe today and you'll also get access to...
Unlimited access to 600+ resources
Over 80 expert CPD guides
Free subscription to Teach Reading & Writing magazine, and digital access to all back issues
New resources every week
Exclusive, member-only resource collections
Plus lots more...
View All Membership Benefits
A study by the National Literacy Trust has revealed that more than 380,000 children in the UK do not own a single book. The charity conducted a survey of more than 56,000 children aged between nine and 18, and just over 6% said that they didn't have any books at home.
Children from disadvantaged backgrounds were found to be less likely to own a book. However, in the past six years, the gap in book ownership between disadvantaged children and more-advantaged children has halved.
An activities sheet is included.
To find out more about The Week Junior and to download its free resources, please go to schools.theweekjunior.co.uk.

This resource is part of the Topical Tuesdays collection. View more from this collection
Look inside!
Click through to see what this resource has to offer
More from this collection