Topical Tuesdays from The Week Junior - Let's go to the zoo!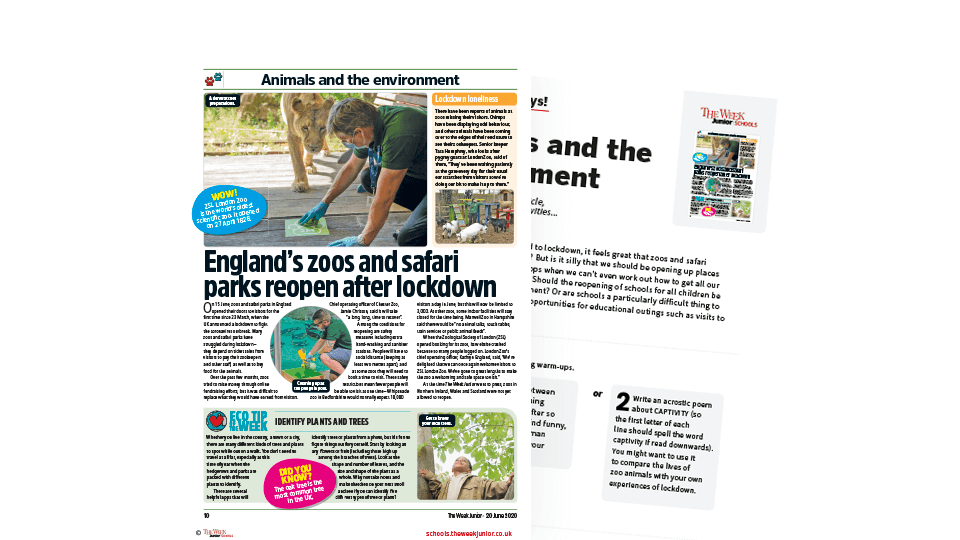 This is a free resource
Download now for free
Or subscribe today and you'll also get access to...
Unlimited access to 600+ resources
Over 80 expert CPD guides
Free subscription to Teach Reading & Writing magazine, and digital access to all back issues
New resources every week
Exclusive, member-only resource collections
Plus lots more...
View All Membership Benefits
On 15 June, zoos and safari parks in England opened their doors to visitors for the first time since 23 March, when the UK announced a lockdown to fight the coronavirus outbreak. But is it silly that we should be opening up places like zoos and non-essential shops when we can't even work out how to get all our children back to school safely?
This resource includes an article from The Week Junior, and a set of activities based on the story that encourage pupils to consider the issues involved in deciding how to 'reopen the country' safely, as well as the ethics of keeping animals in captivity.

This resource is part of the Topical Tuesdays collection. View more from this collection
Look inside!
Click through to see what this resource has to offer
More from this collection