Topical Tuesdays from The Week Junior - Saving the arts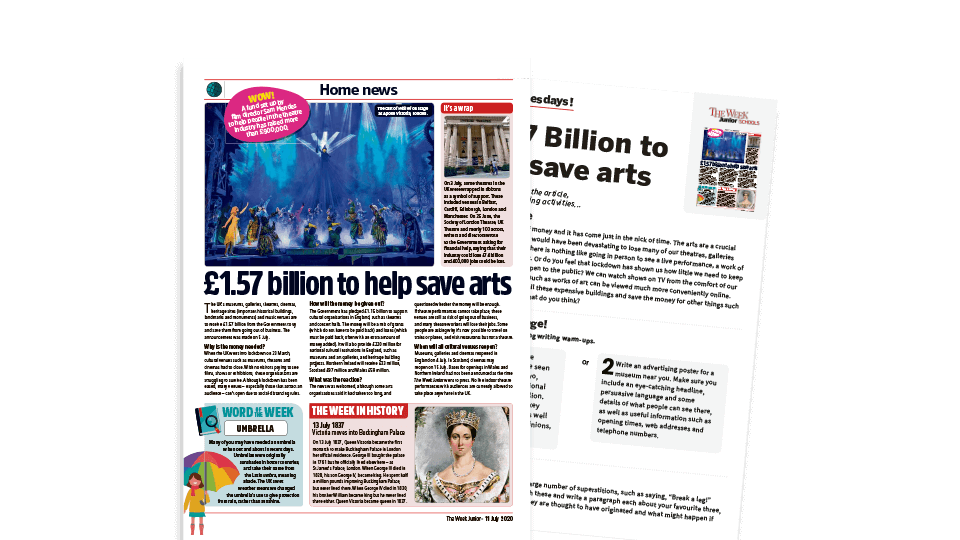 This is a free resource
Download now for free
Or subscribe today and you'll also get access to...
Unlimited access to 600+ resources
Over 80 expert CPD guides
Free subscription to Teach Reading & Writing magazine, and digital access to all back issues
New resources every week
Exclusive, member-only resource collections
Plus lots more...
View All Membership Benefits
The UK's museums, galleries, theatres, cinemas, heritage sites and music venues are to receive £1.57 billion from the Government to try
and save them from going out of business - but is this the right thing to do? Might it be better to carry on experiencing the arts online, close those expensive buildings, and spend the money on other things, like hospitals and schools? This resource pack includes a story from The Week Junior about arts funding, and an activity sheet to get children thinking, talking and writing about what it means to them.

This resource is part of the Topical Tuesdays collection. View more from this collection
Look inside!
Click through to see what this resource has to offer
More from this collection