Topical Tuesdays from The Week Junior - Voices of protest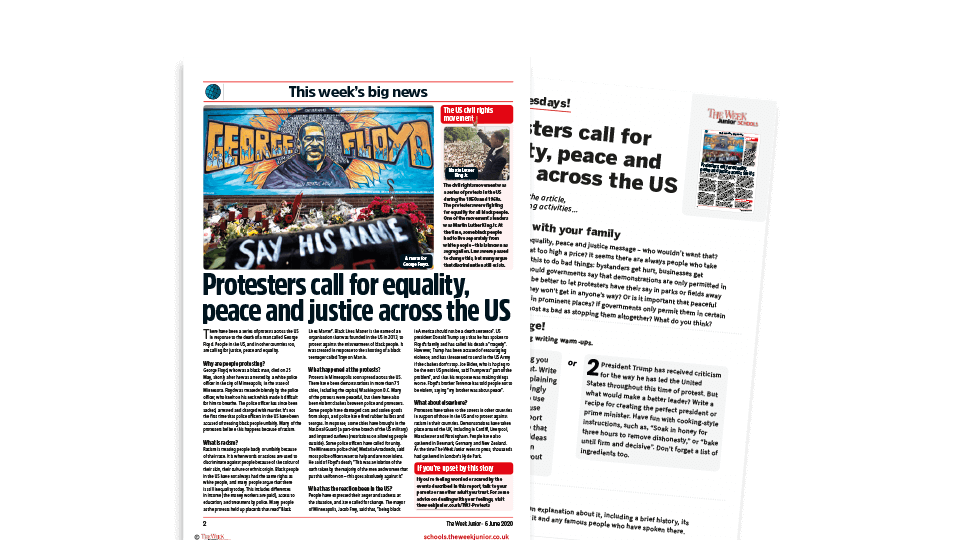 This is a free resource
Download now for free
Or subscribe today and you'll also get access to...
Unlimited access to 600+ resources
Over 80 expert CPD guides
Free subscription to Teach Reading & Writing magazine, and digital access to all back issues
New resources every week
Exclusive, member-only resource collections
Plus lots more...
View All Membership Benefits
There have been a series of protests across the US in response to the death of a black man called George Floyd after a white police officer knelt on his neck for over eight minutes. People in the US, and in other countries too, are calling for justice, peace and equality. You can't argue with the message – but do the protests come at too high a price?
This resources pack covers an extremely important and emotive subject with thoughtful sensitivity. It includes news coverage from The Week Junior about George Floyd's death and the reactions to it, alongside a range of activities to help young people think about the place of protest in society, and how they can use their own voices to effect change.

This resource is part of the Topical Tuesdays collection. View more from this collection
Look inside!
Click through to see what this resource has to offer
More from this collection