White Rose Maths: Y1 Autumn Term – Block 3: 2D shapes maths worksheets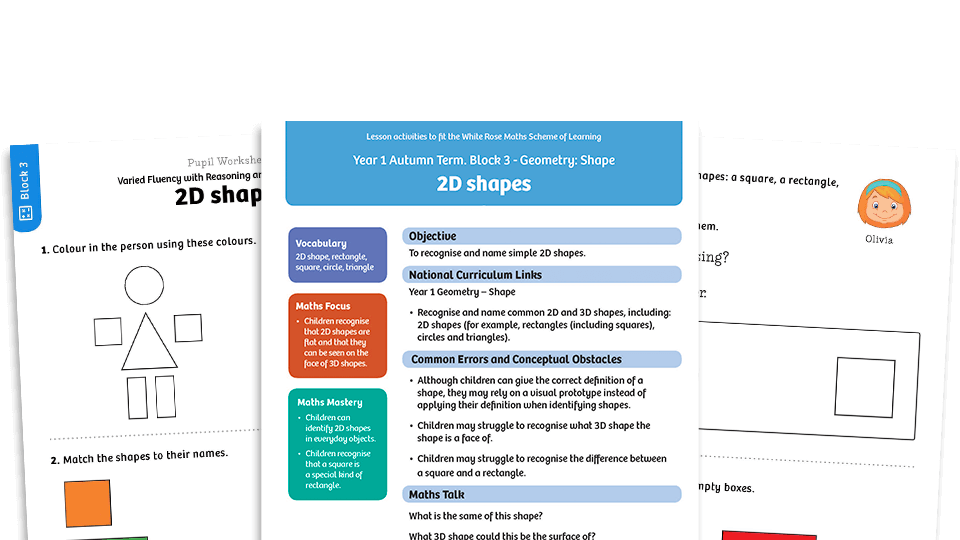 Download your resource
Free with 14 Day Trial
Then £25/annually after 14 days for unlimited access
Plus you'll also get access to...
Unlimited access to 600+ resources
Over 80 expert CPD guides
Free subscription to Teach Reading & Writing magazine, and digital access to all back issues
New resources every week
Exclusive, member-only resource collections
Plus lots more...
View All Membership Benefits
These activity sheets have been created to match the small steps on the White Rose maths schemes of work. They are for the autumn term, week 9.
The questions include varied fluency with reasoning with problem solving, and an additional sheet with extension activities.
Children are given a variety of pictorial examples to work with and questions to provoke deeper thinking.
National Curriculum Links
Year 1 Geometry – Shape
• Recognise and name common 2-D and 3-D shapes, including: 2-D shapes (for example, rectangles [including squares], circles and triangles).

This resource is part of the Created to support White Rose Maths collection. View more from this collection
Look inside!
Click through to see what this resource has to offer
More from this collection