Year 3 Subordinating Conjunctions SPaG Worksheets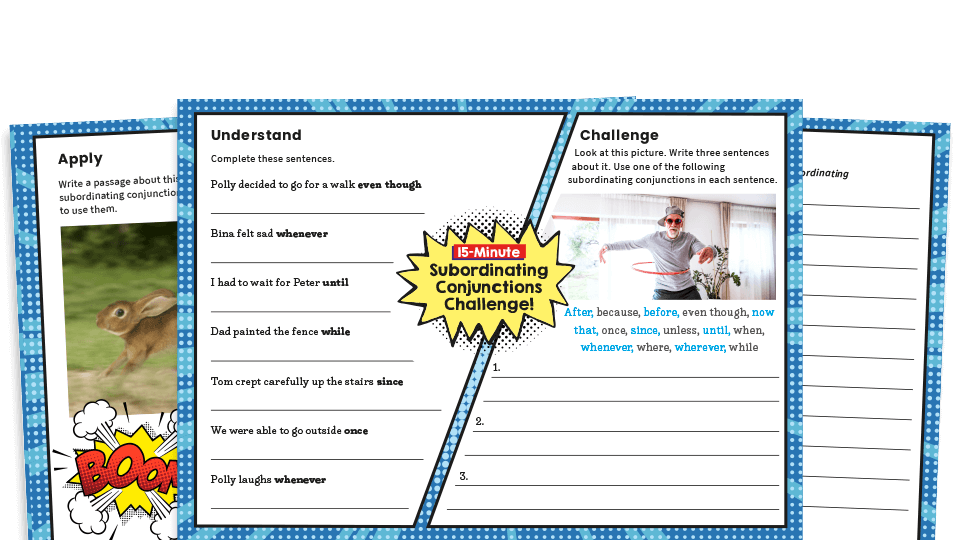 Download your resource
Sign up to download
Plus you'll also get access to...
Unlimited access to 600+ resources
Over 80 expert CPD guides
Free subscription to Teach Reading & Writing magazine, and digital access to all back issues
New resources every week
Exclusive, member-only resource collections
Plus lots more...
View All Membership Benefits
This bright, appealing PDF grammar worksheet is an excellent way to practise and revise using subordinating conjunctions in Y3.
This primary resource is divided into five sections:
Understand
Complete the example sentences that contain subordinating conjunctions.
Challenge
Look at the image provided and write three sentences using one of the subordinating conjunctions provided in each sentence.
Test
Circle the subordinating conjunctions in the example sentences, then put four subordinating conjunction into the blanks in the sentences provided so that Mike and his dad are working at the same time.
Explain
Using your own words, explain what a subordinating conjunction is.
Apply
Write a passage about the race shown in the image provided, including at least three subordinating conjunctions to show that you know how to use them.
Activities include SATs style questions and opportunities for creative writing responses, with eye-catching images as prompts.
What is a subordinating conjunction?
A subordinating conjunction introduces a subordinating clause, and joins it to the main clause in a sentence.
Subordinating conjunction examples
Gina has been thrilled ever since Jenny arrived.
The dog is barking because he wants to go for a walk.
We need to clean up so that the classroom is tidy for tomorrow morning.
I like living here even though the neighbours can sometimes be noisy.
Subordinating conjunctions list
After
Although
As
As if
As long as
Because
Before
Even though
If
If only
Now
Now that
Once
Provided
Rather than
Since
So that
Than
That
Though
Till
Unless
Until
When
Where
Whether
Which
While
National Curriculum English programme of study links
Use subordinating conjunctions (eg when) to introduce a subordinate clause

This resource is part of the SPaG Gym collection. View more from this collection
Look inside!
Click through to see what this resource has to offer
More from this collection