Prefix 'un-' Year 1 Worksheets KS1 SPaG Activities Pack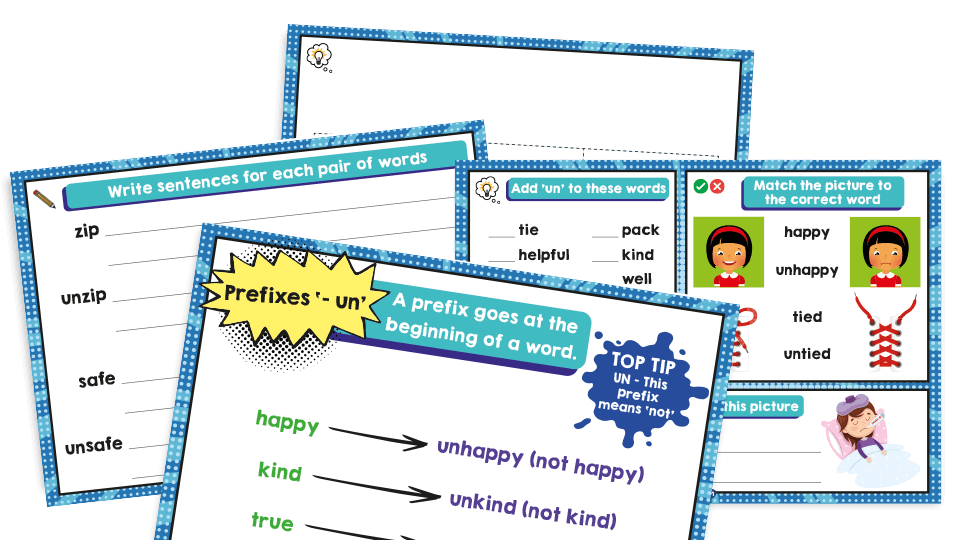 Download your resource
Sign up to download
Plus you'll also get access to...
Unlimited access to 600+ resources
Over 80 expert CPD guides
Free subscription to Teach Reading & Writing magazine, and digital access to all back issues
New resources every week
Exclusive, member-only resource collections
Plus lots more...
View All Membership Benefits
This pack contains all you need to teach a Year 1 lesson on the 'un-' prefix, or to revise the topic with pupils.
This primary resource includes:
Colourful 'un-' prefix posters for teaching
Featuring examples of words that use the 'un-' prefix to remind children how it works
'Un-' prefix word cards sorting activity
A printable PDF of 'un-' words to print on card and cut out
'Un-' prefix worksheets
Let children practise and apply their new grammar knowledge by adding 'un' to words, matching the correct picture to words, writing a sentence about an image and write sentences for the given pairs of words
Teacher's notes
What is a prefix?
A prefix is a combination of letters, words or numbers that can be placed before other words to change their meaning.
Prefix examples
un- (unpleasant, unhappy)
im- (impossible, improper)
mis- (mislead, misplace)
re- (reappear, reattach)
pre- (prefix, prehistoric)
dis- (disagree, disobey)
National Curriculum English programme of study links
Pupils should be taught to add prefixes and suffixes.

This resource is part of the SPaG Gym collection. View more from this collection
Look inside!
Click through to see what this resource has to offer
More from this collection