KS2 English Lesson Plan & Activities – The Taylor TurboChaser by David Baddiel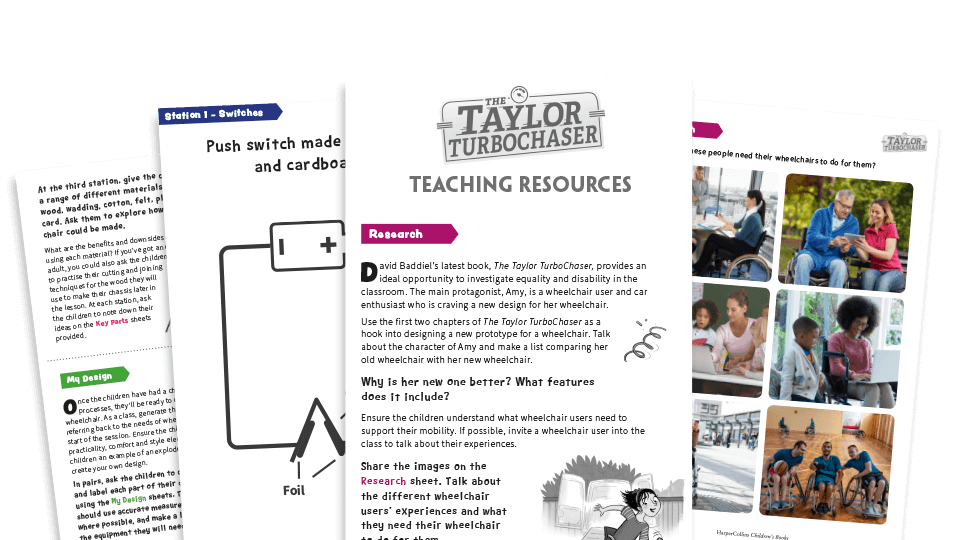 This is a free resource
Download now for free
Or subscribe today and you'll also get access to...
Unlimited access to 600+ resources
Over 80 expert CPD guides
Free subscription to Teach Reading & Writing magazine, and digital access to all back issues
New resources every week
Exclusive, member-only resource collections
Plus lots more...
View All Membership Benefits
The Taylor TurboChaser, the latest book from David Baddiel, provides a great opportunity to explore disability and equality with your class.
Amy, the main character, is a wheelchair user and car enthusiast who wants a new design for her wheelchair.
Getting your pupils to design and make a prototype chair for Amy lets them discover the needs and perspectives of those with disabilities.
They'll learn to create functional design ideas for products aimed at specific users, communicate ideas through drawings, use a wide range of tools and create a simple switch circuit.

This resource is part of the Effective Writing collection. View more from this collection
Look inside!
Click through to see what this resource has to offer
More from this collection