Editable Primary Lesson Plan Template and English Unit Planning Grid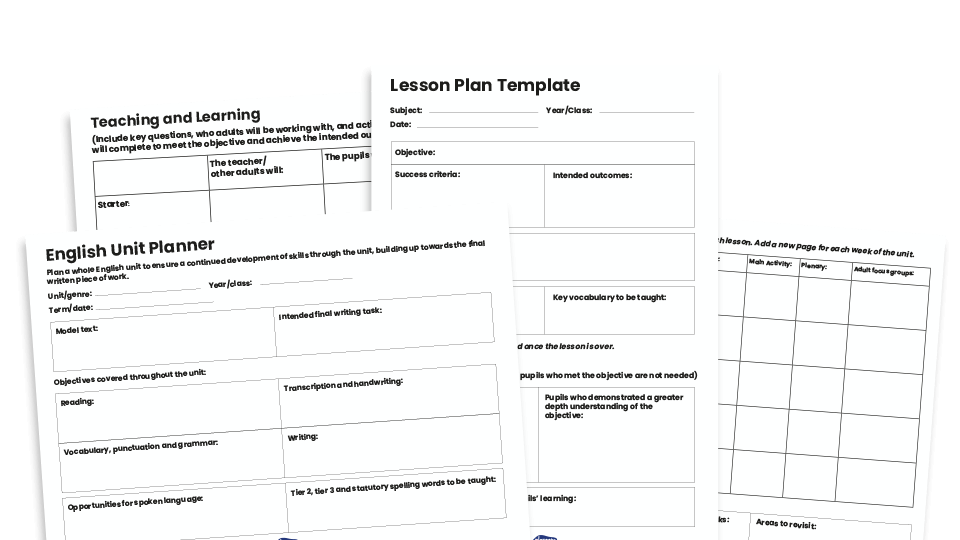 Download your resource
Free with 14 Day Trial
Then £25/annually after 14 days for unlimited access
Plus you'll also get access to...
Unlimited access to 600+ resources
Over 80 expert CPD guides
Free subscription to Teach Reading & Writing magazine, and digital access to all back issues
New resources every week
Exclusive, member-only resource collections
Plus lots more...
View All Membership Benefits
This pack includes a lesson plan template (in PDF and editable formats) that can help NQTs and supply teachers to structure their lessons. It may also be helpful to plan and develop ideas for a lesson that may be observed.
The plan follows a simple format which is easy to complete and then follow throughout the delivery of the lesson. An opportunity to assess pupils' understanding against the objective and identify next steps in learning will help teachers to plan subsequent lessons for classes and groups of pupils.
Also included is a template that will support teachers to plan and deliver a whole English unit for writing. There is space at the start for teachers to identify the model text/s used and the intended final piece of writing that the pupils will complete, to aid them when planning the steps needed to build up to the eventual writing outcome.
The weekly planning grid can be reproduced according to the number of teaching weeks for the unit.

This resource is part of the Effective Writing collection. View more from this collection
Look inside!
Click through to see what this resource has to offer
More from this collection