Year 6 Colons SPaG Worksheets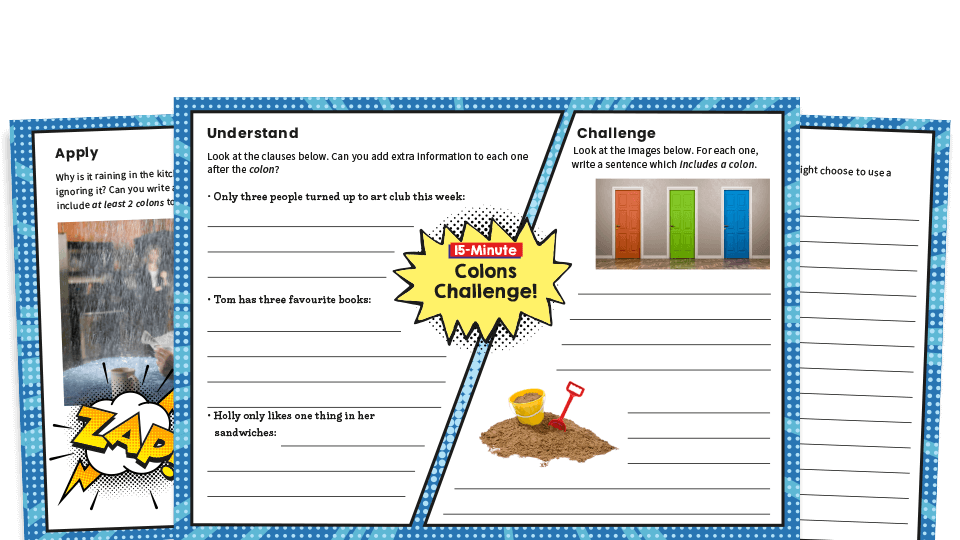 Download your resource
Sign up to download
Plus you'll also get access to...
Unlimited access to 600+ resources
Over 80 expert CPD guides
Free subscription to Teach Reading & Writing magazine, and digital access to all back issues
New resources every week
Exclusive, member-only resource collections
Plus lots more...
View All Membership Benefits
These bright, appealing grammar worksheets are a great help for practising and revising the use of colons in Y6. There are three worksheets in total, covering the following five sections – 'understand', 'challenge', 'test', 'explain' and 'apply'.
Understand
Look at the clauses below. Can you add extra information to each one after the colon?
Challenge
Students write two sentences that each include a colon in response to two image prompts.

Test
Students draw lines to connect the two matching parts of four different sentences that use colons.
Explain
Using their own words, students explain why one might choose to use a colon in their writing.
Apply
Students write an explanation in response to an image prompt that makes use of at least 2 colons.
What is a colon?
A punctuation mark that is typically used to introduce a list of items, a direct quotation or some form of explanation.
Colon examples
Mrs Jones said: "This was not supposed to happen."
They talked about three things: the weather, what they'd had for lunch and how noisy it was.
The pain was bad enough to make one thing clear: he'd really hurt himself.
National Curriculum English programme of study links
Pupils should be taught to indicate grammatical and other features by using semi-colons, colons or dashes to mark boundaries between independent clauses [and] using a colon to introduce a list.

This resource is part of the SPaG Gym collection. View more from this collection
Look inside!
Click through to see what this resource has to offer
More from this collection