KS1 Rainforest Animals Poster Pack: Display and Writing Inspiration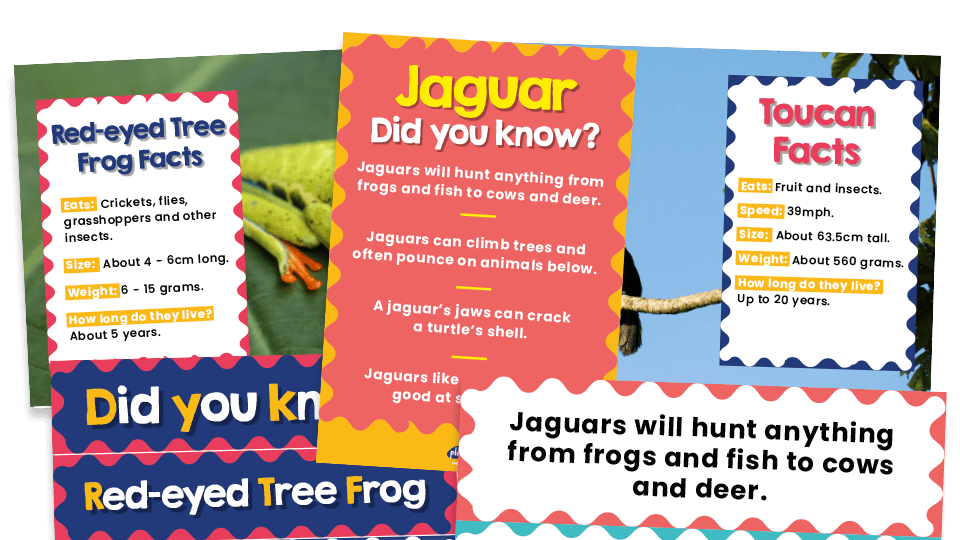 Download your resource
Free with 14 Day Trial
Then £25/annually after 14 days for unlimited access
Plus you'll also get access to...
Unlimited access to 600+ resources
Over 80 expert CPD guides
Free subscription to Teach Reading & Writing magazine, and digital access to all back issues
New resources every week
Exclusive, member-only resource collections
Plus lots more...
View All Membership Benefits
Inspire discussion and writing with these six KS1 interactive display posters featuring rainforest animals. Each poster shows statistics and interesting facts about a different animal - and versions with the images only are also included, with separate facts, so children can create their own displays. The animals shown are:
* Silverback mountain gorilla
* Sloth
* Jaguar
* Orangutan
* Red eyed tree frog
* Toucan

This resource is part of the Classroom Display collection. View more from this collection
Look inside!
Click through to see what this resource has to offer
More from this collection