Fronted Adverbials Worksheets Year 4 – KS2 SPaG Challenge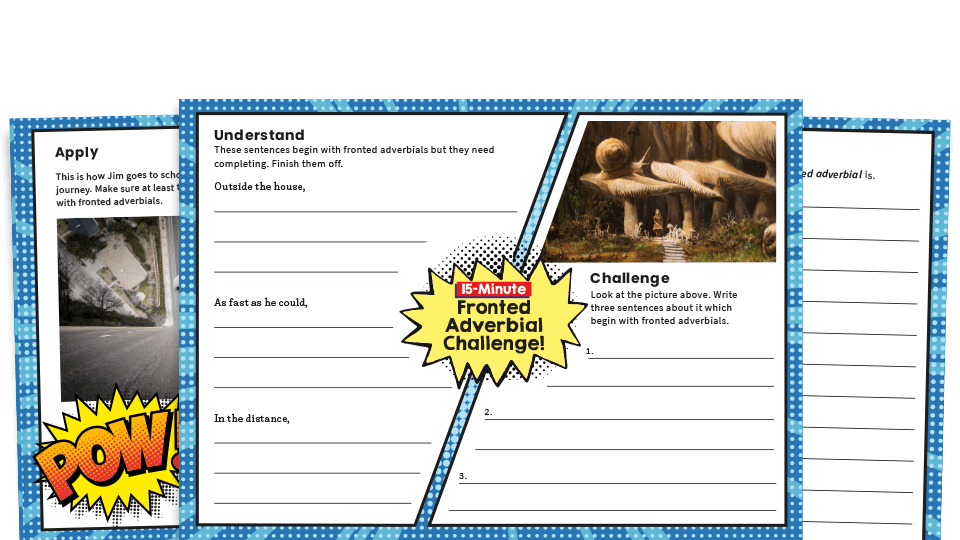 This is a free resource
Download now for free
Or subscribe today and you'll also get access to...
Unlimited access to 600+ resources
Over 80 expert CPD guides
Free subscription to Teach Reading & Writing magazine, and digital access to all back issues
New resources every week
Exclusive, member-only resource collections
Plus lots more...
View All Membership Benefits
This bright, appealing PDF grammar worksheet is an excellent way to practise and revise using fronted adverbials in Y4.
This primary resource is divided into five sections:
Understand
Complete the example sentences which begin with fronted adverbials.
Challenge
Use the image provided and write three sentences about it which begin with fronted adverbials.
Test
Tick each of the example sentences which contain fronted adverbials, then match a list of fronted adverbials to the example sentence end that best completes it.
Explain
Using your own words, explain what a fronted adverbial is.
Apply
Use the image provided to write a passage about the boy's journey to school, making sure at least three of your sentences start with fronted adverbials.
Activities include SATs-style questions and opportunities for creative writing responses, with eye-catching images as prompts.
What is a fronted adverbial?
Adverbials are used like adverbs. They are words or phrases that add more information to a verb, and explain how, when or where something happened.
Fronted adverbials are therefore are adverbials that have been moved to the front of the sentence, before the verb. They describe the rest of the sentence to come.
Fronted adverbial examples
Meanwhile, we did some drawing.
Somewhere around here, Jamie left her pencil case.
Just then, we heard a noise.
Somewhat understandably, the teacher was furious.
In September, it'll be my birthday.
Occasionally, I like to walk through the forest.
National Curriculum English programme of study links
Students will learn:
That a fronted adverbial is an adverbial which has been moved before the verb
To use fronted adverbials [for example, Later that day, I heard the bad news.]
About the use of commas after fronted adverbials


This resource is part of the SPaG Gym collection. View more from this collection
Look inside!
Click through to see what this resource has to offer
More from this collection